ZINGA COLD GALVANIZATION SYSTEM
The prevailing harsh environment in Saudi Arabia leads to accelerated corrosion of steel structures, especially in coastal areas. Zinga cold galvanization system offers a unique cost-effective solution for rehabilitating corroded structures and protecting from further corrosion for substantial periods of time, thus reducing the operation & maintenance costs for facility owners.

ZINGA is a single component zinc rich coating (Film Galvanizing System) containing 96% zinc purity in dry film. It provides the following main advantages:
Provides ongoing galvanic action: Zinga is unique among all coatings in providing a very high protection to structures, and is therefore the only paint that can act as a substitute to hot dip galvanization. (note: below 93% zinc content, no galvanic action takes place)
Very long durability of protection (no less than 15 years) as compared to other methods which typically offer 5 to 10 years and sometimes less.
Significantly better performance than hot dip galvanization in environments next to seashore or immersed in seawater.
Has fire retarding capabilities
Unlike other coatings, is non-toxic due to very high zinc content, and therefore can be used in potable water tanks.
Very easy to apply (on site or at workshop) due to being single component. It can be applied with airless spray, brush or roll.
Is touch-dry in 10 minutes
Can be used as a single system, or as primer in duplex systems.
Has unlimited shelf life.
Ideal for thin steel members, which can get deformed using hot dip galvanization.
Proven track record, both worldwide and in Saudi Arabia.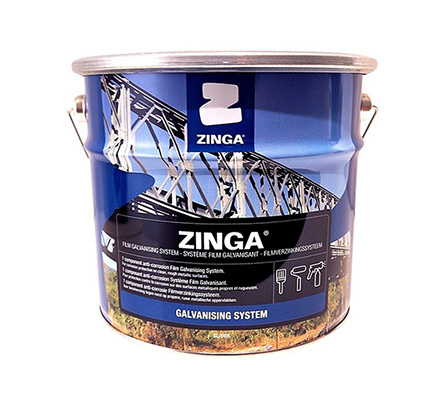 Zinga is Available in 5Kg and 25Kg Drums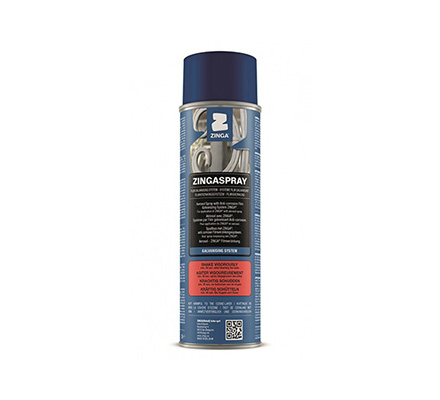 Zingaspray Offers The Film Galvanizing System ZINGA In An Aerosol Spray For Easy Small Applications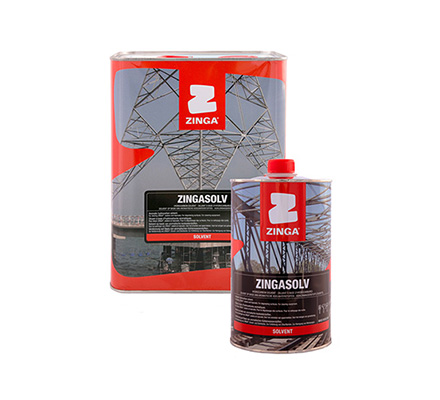 Zingasolv is a C9-C10 Aromatic Hydrocarbon Solvent